Please join us this Friday through Sunday!
10-12-2021
Ichijo USA is proud to participate in the Homes of Tomorrow Today Tour in the Portland, OR Metro Area Oct. 15-17th! Homes of Tomorrow Today Tour will feature newly constructed homes showcasing the best in sustainable building practices, comfort and durability – setting the benchmark for how future homes will be built to reach and exceed environmental demands and buyers' needs. Learn more at: https://www.homesoftomorrowpdx.com/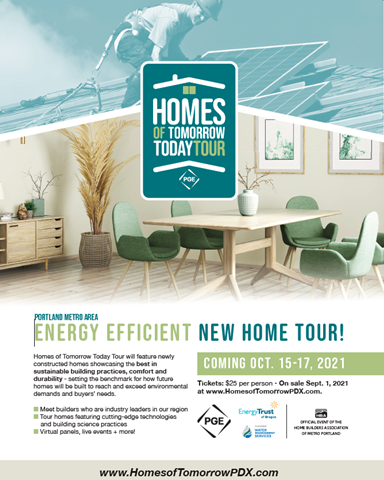 For the Homes of Tomorrow Today Tour, Ichijo will be featuring two models at Reed's Crossing in Hillsboro, OR and two models at Pleasant Valley Villages in Happy Valley, OR. All are all electric, net-zero energy ready. Add solar panels to reach net-zero!
Look for our contemporary designs, energy efficient technology and innovative products including i-cube construction, piano finish cabinetry, dual sliding windows, cool contemporary doors with magnetic door stops and more.
Learn more about Ichijo's communities in Oregon: Oregon – Ichijo (ichijousa.com)